Michigan dock builder, dock installation, & dock repair for your Michigan waterfront sanctuary
Lets face it, if you live on the water in Michigan, a quality dock is home base for your free time by the water. At some point or another a new dock or repair work will be desired to help entertain guests and gain better access to your marine vehicles. Seaside Seawalls has over 20 years experience in custom planning, design, and dock installations all over Michigan, contact us today for a free consultation.
Michigan Custom Docks & Dock Repair Services
Permanent Pressure Treated Docks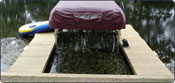 Permanent pressure treated docks
provide practically limitless design options for your waterfront. Being extremely durable and having that great "wood" look, permanent docks are a great year round choice for areas with moderate to low winter ice pressure. If you prefer the wood look without the actual wood, we offer a full line of composite decking options sure to please anyone. Contact us today for a free Michigan Docks consultation and quote!
Sectional Docks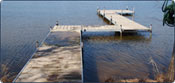 Sectional Docks
provide the best qualities of all docks while being cost effective. Easy to install and remove a sectional dock requires little to no maintenance while supporting extremely high load limits ensuring year round fun on your dock no matter how many people show up. Being removable, sectional docks have virtually limitless options in materials, size and design options. These are one of the best choices for Michigan docks as they are easy manage during changes in season.
Floating Docks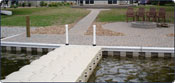 Great for areas with a steep dropoff, soft bottom, or just plain deep water,
floating docks
support up to 2500 pounds per section while being 100% maintenance free. With that kind of support and hundreds of layout options a floating dock is a fantastic choice for your deep water michigan shoreline. Contact us today to speak with a dock specialist who will be happy to answer any questions you may have.