Michigan Boat lifts, custom boat lift design & repair services
If you own watercraft of any type chances are you either own or are in need of a boat lift to help protect your investment while its not in use. Seaside Seawalls offers over 20 years experience in brand name and custom lifts for your boat. Contact us today and together we can design a lift to keep your watercraft clean and prevent stagnate damage all summer long.
Michigan Boat Lifts
Boat Lifts and PWC Lifts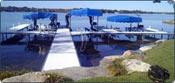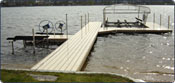 Boat Lifts
come in a variety of configurations all designed to keep your watercraft out of the water, clean, and free of damage while not in use. From galvanized stainless steel to custom wood fabrication Seaside Seawalls can design and install your vertical or Cantilever style boat lift stress free. Deep water kits and custom canopy colors are available as well as many accessories to meet all your boating needs. Contact us today for a free consultation and quote, your watercraft will thank you.