Seawall Construction Services
Building seawalls is the foundation of our business, from planning to execution you can trust Seaside Seawalls to get the job done right. We have hundreds of satisfied Michigan customers and would love nothing more than to put our reputation on the line for your project! Offering a full line of steel, vinyl, composite, and rock seawall construction options you can relax knowing we've go your project covered.
It's not just a Seawall, it's a Seaside Seawall!
Steel Piling Walls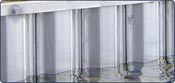 In many situations a
steel seawall
is the most feasible solution for a shoreline that may become subject to heavy ice pressure during winter months. They are also an excellent choice to build if you require a higher than average wall. Many people in Michigan choose this wall simply because they look fantastic and provide the highest return on your property investment.
Vinyl Piling Walls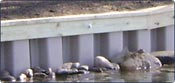 Vinyl seawalls are very similar to their steel counterparts and are very popular due to their manufacturers warranty.
Vinyl piling seawalls are guaranteed
against many issues including UV damage, corrosion, wall rot, cracking, and rust. If you decide to persue a vinyl seawall make sure to ask us about the ESP 2.1 series sheeting system designed for moderate to low ice pressure shorelines.
Rock Walls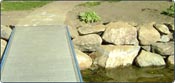 A
rock seawall
is an attractive and environmentally friendly way to protect your valuable shoreline. By patiently choosing and locking in each fieldstone against a canvas of high quality filter fabric we build more than a seawall, we build a piece of art. Rock seawalls are an excellent choice in for moderate to low pressure ice buildup in our Michigan winters.
Rip-Rap Seawalls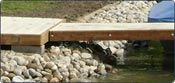 Most commonly found along river front homes a
"Rip-Rap Seawall"
is the rock walls younger sibling. A very cost effective and fantastic looking fieldstone wall will set a picturesque scene while secretly protecting your property from erosion and loss year round.