Welcome to another edition of Throwback Thursday! Today we're going to discuss a project we completed last year for a customer on Hamburg Lake, which is located less than 3 miles from Whitmore Lake in Michigan.
This was a decent sized project, which included us building not only a retaining wall behind the customer's existing steel seawall, but also a custom stone step stair system and a brand new cantilever dock!
What's Up, Dock? The Benefits of a Cantilever Dock System
More and more of our customers are choosing permanent cantilever docks these days, and there are several good reasons why! Unlike other dock systems (and as the name suggests), a "permanent" cantilever dock never has to be moved. Additionally, the dock sits completely out of the water, which means that changes in water levels or ice in the winter time do not affect the dock's structure. This also means that the cantilever dock does not disturb marine life habitats or river/lake bottoms, making it an excellent choice for many residential waterfront property owners.
Out With The Old…
Before we could begin, we had to take care of some business first. Specifically, we had a few things that we needed to remove in order to proceed with the construction of this project. First, we encountered a tree with an 18" diameter trunk that needed to be removed so that we could get in there and work! The tree, which appeared to be dead anyway, was cut down and hauled away, leaving the stump which was then excavated from the embankment and also hauled away. Next up, we had to of course remove the existing dock on the property so that we could construct the brand new permanent cantilever dock the customer desired. Our final bit of prep work before officially beginning construction was to excavate the 34' x 13' landing area above the existing steel seawall. When it was all said and done, we removed approximately 3 gravel trains (90 yards) of fill and materials!
Let's Do This! Constructing the Retaining Wall
For this particular retaining wall, the customer chose Ledgestone Redi-Rock – a popular choice among homeowners due to its random, stacked stone appearance. An attractive option, Ledgestone Redi-Rock is made using architectural-grade precast concrete with a very detailed textured face to give it that natural look. In case you were wondering, Redi-Rock is a material that is available for us to build walls in and basically consists of giant concrete blocks that stack up using a knob-and-groove system (think Legos) and have a stone-like appearance as a face. Unlike Legos, however, these blocks are heavy duty, weighing about 1.5 tons a piece! Since this retaining wall was projected to be about 62 feet in length, you can imagine we used a lot of Redi-Rock to make this thing come together! We also lay geotextile fabric behind the wall and installed about 6-9" of compacted crushed concrete as a base.
Next Up, Stone Steps!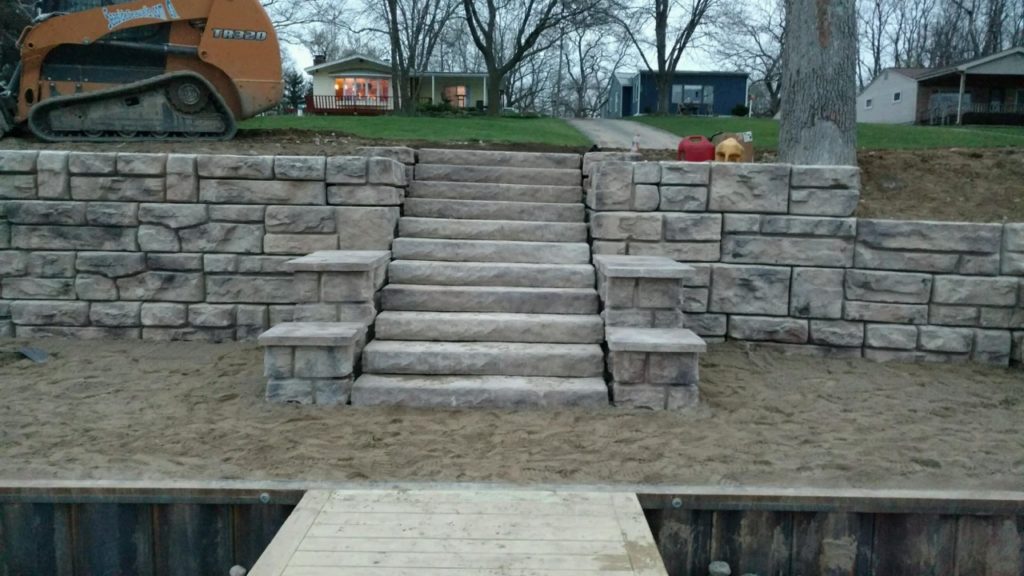 We then installed eleven 6' wide Redi-Rock steps on top of a compacted 1 x 3 crushed concrete base to compliment the appearance of the newly constructed retaining wall. Customers love these steps because they have the look of natural stone, but the benefit of functionality and being easier to walk on due to being manufactured with consistent heights and dimensions. About halfway down the staircase, we installed four columns – 2 on each side of the stairway – made of Ledgestone face Redi-Rock to match the wall and steps. We then topped the columns with textured caps to give the stairway that finished, complete look.
The Permanent Cantilever Dock
As we mentioned earlier, permanent cantilever docks are becoming more and more popular due to their many advantages. As you can see, we installed this cantilever dock to be flush with the height of the existing steel seawall. Since these docks are "floating", and do not touch the water, some serious materials are used to ensure the dock stands the tests of time! First, we installed two 30' length I-beams – 14' of which was buried onto the land and anchored into the ground with structural steel anchors welded to each beam. We then connected two heavy beams with middle framing and welded the entire structure to provide the steel framing for the decking board. Finally, we installed 2 x 6 treated lumber decking board with fascia board along the sides to complete the brand new dock! Upon completion, the permanent cantilever dock measured 16' x 6'.
The Final Product
The final product was about a 40' x 10' area, including a 6' x 4' beach sanded landing area and the stone stairway which was strategically placed in line with the location of the new cantilever dock. Additionally, to both the left and right of the stairway, we placed geotextile fabric on the newly excavated ground and covered the entire area with about a 5" depth of beautiful beach sand to complete the look. As you can see, the final product turned out to be a stunning revamp of the customer's waterfront property!
BEFORE: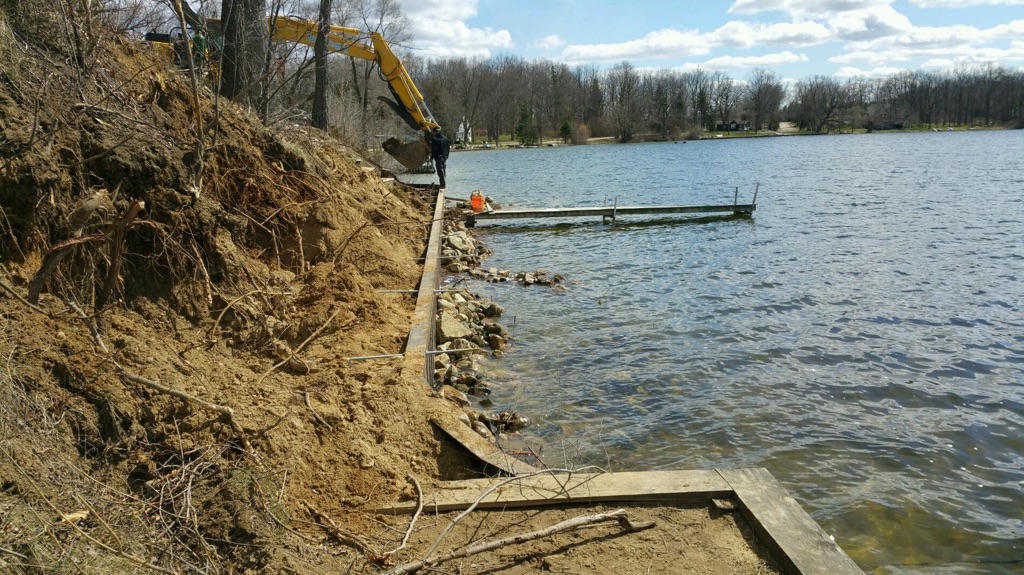 AFTER: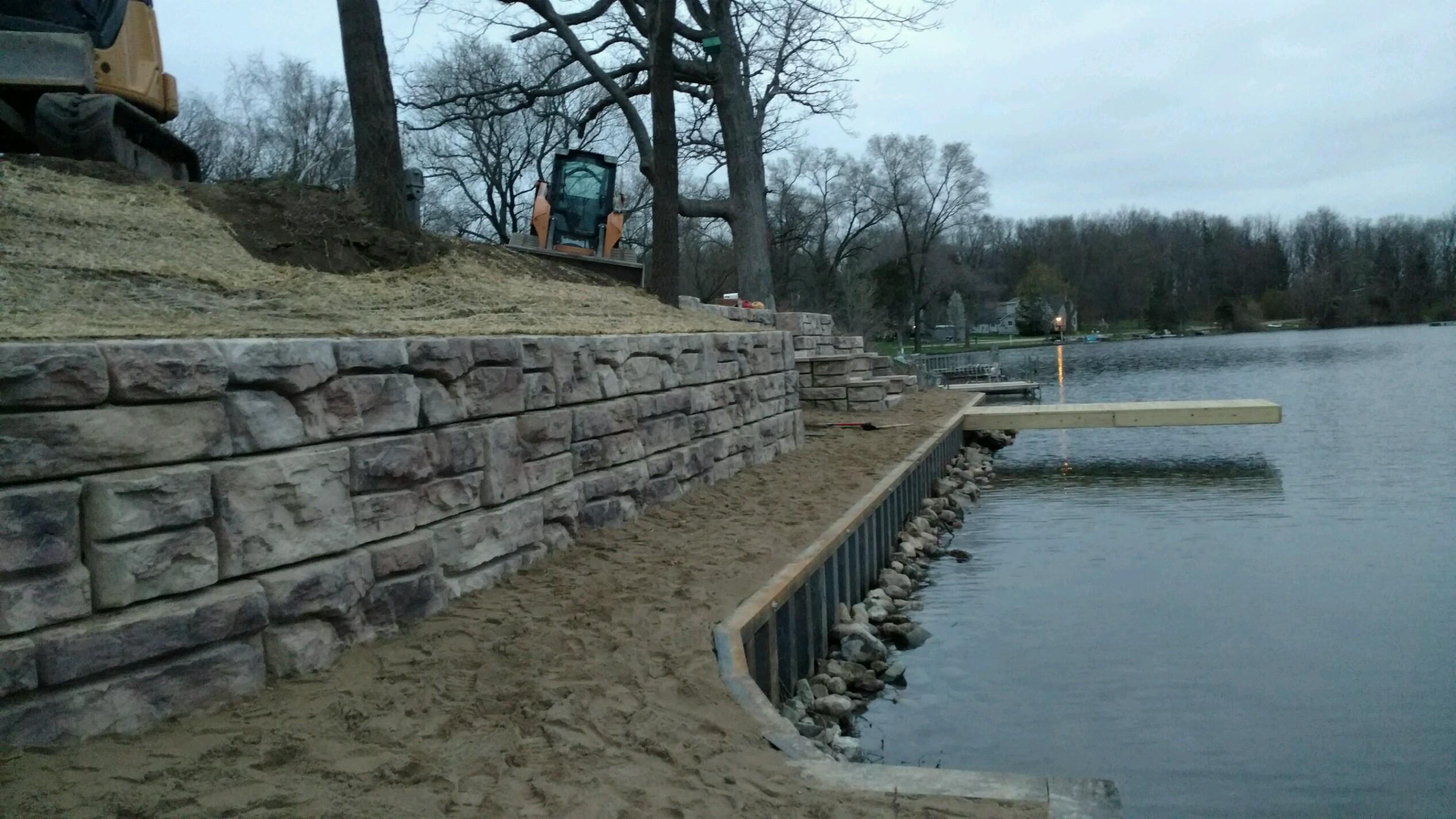 The Seaside Seawalls Guarantee
By choosing Seaside Seawalls for this construction project, this customer was also given our 10 year installation and material warranty against ice and ground pressure changes that may affect the new retaining wall or stone stair system. This is something we offer all of our valued customers, because we firmly believe in the quality of both our materials and our team's work. We stand behind our work, and are proud to offer you our team of highly trained professionals and only the most advanced construction equipment to help make your waterfront property dreams come true! If you would like to learn more about the other services we offer, click here, or give us a call for a free estimate!