While of course we've been busy this summer constructing a lot of seawalls as well as other landscaping projects here in Michigan, this particular job was very unique, as it involved us building not one, not two, but three galvanized steel seawalls all in a row!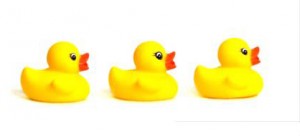 In fact, the first house we did also wanted a beach inlet area, so on top of an extremely large seawall project, we excavated a 10.5 foot by 14 foot beach area. Typically, a job of this magnitude would take most people several weeks to complete – but not at Seaside Seawalls! We had the entire project – from the initial planning stage to the final installation stage – complete in just over a week's time!
However, before any kind of construction took place, we first had to gather the many materials we would be requiring for this extremely large job. Since all three houses agreed that they wanted to maintain consistency and uniformity across their property's appearance, we were able to use the same type of steel for the seawalls. Another great thing about this job (or doing three houses in a row in general) is that it was not necessary to install returns for the walls we built, since they were all welded together.  Other supplies that we gathered for the project included steel tiebacks, top soil, screened beach sand, and geo-thermal lining for the first property that wanted the beach inlet area. And of course we needed our trusty excavator and skid steer to complete the physically-demanding parts of this job!
House #1: Steel Seawall and Beach Inlet Area on Silver Lake
All three houses had pre-existing seawalls in place, so our team had to work around this issue.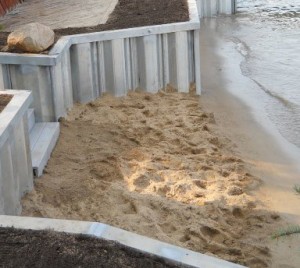 With the first house, we installed a 34.5 foot long and 24 inch high new steel seawall to replace a section of the old seawall. In doing so, we used 7 foot pilings and installed steel tiebacks every 7.5 feet along the new section of the wall. We backfilled the wall with sand and then graded, top-soiled, and seeded the area to give it that fresh new look!  After the construction of the seawall, we then installed a 10.5 foot by 14 foot beach inlet area. But first we had to excavate the area out and put down a geo-thermal lining. After this was finished, we used screened beach sand (approximately 15 inches in depth) on top of the geo-thermal lining to form a complete beach enclosure.
Houses #2 and #3: Steel Seawalls on Silver Lake
The second and third residential properties we did construction work on were identical to one another with regards to the type of job we'd be doing. They both involved us installing a 50 foot long and 24 inch high steel seawall in front of an existing seawall. Like the first house, we used steel tiebacks every 7.5 feet along the new walls. Unlike the first house, we used 6 foot pilings instead of 7 foot pilings. However, the post-construction duties were the same as the first house: we backfilled the wall with sand, and then graded, top-soiled, and seeded the area.

This unique project involving three residential customers who were neighbors took place on Silver Lake, which is located in South Lyon, Michigan. The city of South Lyon is situated in the far southwest corner of the greater Oakland County, and has a total population of approximately 11,327 residents. Oakland County has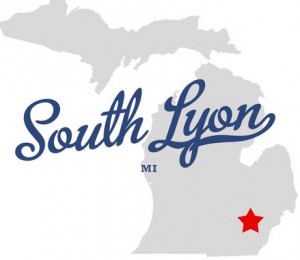 a total area of 908 square miles, 872.51 square miles of which is land, and 35.49 square miles of which is water.
Here at Seaside Seawalls, we take great pride in our work. Rest assured that when you choose Seaside Seawalls, you're choosing a company that is made up of team members who are both qualified and experienced. Our team members possess the necessary skills that are required to construct both a durable and attractive-looking seawall for your residential or commercial waterfront property. With hundreds of satisfied customers throughout the State of Michigan, we stick to our word and guarantee the longevity of our seawalls for up to ten years! This is because we believe in the work that we do, and do not cut corners when it comes to designing and building your desired marine structure. So if you're thinking of having some work done to your Michigan waterfront property, be sure to contact us at Seaside Seawalls for your free estimate today!