Seaside Seawalls was contacted this summer to build a brand new galvanized steel seawall as well as a permanent dock for a resident situated on Buck Lake in the city of Whitmore Lake, Michigan. Located around the shores of Whitmore Lake, this city is part of the greater Livingston County, and has a total area of 5.4 square miles – 4.4 square miles of which is land, and 1.0 square miles of which is water.
This project took a total of five days to complete, and is a particularly unique one for Seaside Seawalls due to the galvanized steel seawall's winding curves. While all steel seawalls have an attractive yet professional look to them, this one in particular stands out from all the rest because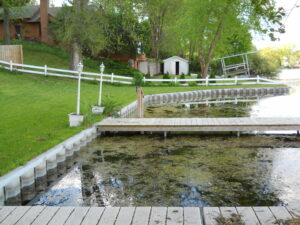 of the way it wraps around the shoreline, separating the property line from the water line. Like this customer, most of our customers choose galvanized steel when they decide to have a seawall built, usually because of its durability coupled with its attractive gray appearance. In fact, galvanized steel is often the material of choice for seawalls because of its protective zinc coating, which aids in the prevention of rust and erosion. This means that a seawall built with galvanized steel is much more durable than seawalls built from other materials, making it virtually maintenance-free!   For this project, we not only built a brand new steel seawall for our customer, but also installed a permanent dock made of 2 x 6 treated lumber decking and galvanized steel framing. Upon completion of this job, the galvanized steel seawall was 120 feet in length and 24 inches high. The new dock measured 30 feet in length upon completion. Between the newly installed seawall and dock,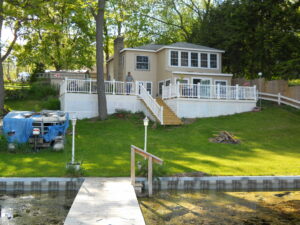 there is an abundance of fish and fish beds – something that Buck Lake is well-known for. With its sandy bottoms and a plethora of different fish species residing within it, this private, all-sports lake is great for summer sports such as boating, jet skiing, wakeboarding and fishing. In fact, the 43 acre lake is home to Bluegill, Rock Bass, Largemouth Bass, and Pike fish, making it a popular destination for residents who enjoy fishing. Since this lake is private and therefore has no public access, the residents frequently make use of this small lake for boating and other summer water sports, as Buck Lake is a relatively quiet lake with little traffic and no canals running off of it. Buck Lake is situated in the beautiful Livingston County of Michigan, which is the fastest growing County in the State! It is home to about 180,967 residents and has a total are of 585 square miles – 568 square miles of which is land, and 17 square miles of which is water.
As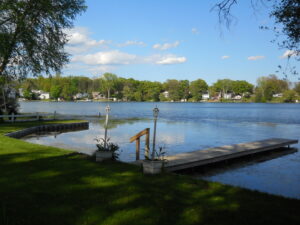 the summer days are upon us, and we are spending more time outdoors and by the lake, contact Seaside Seawalls for your next seawall, boat dock, or deck project. We take great pride in the work we do and would love the opportunity to help you spruce up your residential or business waterfront property so that it is both attractive and functional. Give us a call today for a free estimate!