Seaside Seawalls has recently installed a brand new steel seawall, boardwalk, and retaining wall on Lake Neva which is located in the township of White Lake, Michigan. White Lake is a chartered township of the greater Oakland County, and has an estimated population of 30,019 residents. The township's total area is approximately 37.2 square miles, of which 33.7 square miles is land and 3.5 square miles is water.
For this current project, we first had to demolish both the customer's existing retaining wall as well as their seawall, since a portion of the wall had completely fallen over. However, during the demolition, there were a few challenges that we encountered.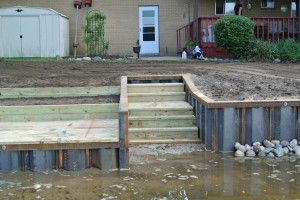 Right about where the step inlet was going to be installed, we found an 8' x 5' x 2' chunk of cement with rerod (rerod is basically a reinforcing material, usually steel, that is used to help with the reinforcement and structuring of concrete or cement) all through it! Removing this large piece of buried cement and rerod posed a very unique challenge for our team, who attempted to extract it from 4 feet below the grade. However, we were able to get it out of there…finally! While we are still not sure why it was there or how it got there, it sure felt like we were pulling up a chunk of an old road!
After this labor-intensive demolition, which included the complete removal of the customer's old retaining wall and seawall, we prepared to install a brand new steel seawall in place of the old, failing one. This residential customer also wished to have a new boardwalk and retaining wall installed on the waterfront property. Therefore after obtaining our DEQ Permit, we gathered the necessary equipment (specifically a skid-steer and an excavator) and materials we'd need to finish the job. The materials we used included steel for the seawall, treated lumber for the boardwalk and retaining wall, and riprap for the toe of the seawall to help keep it in place and prevent shoreline erosion. The estimated time to completion of this project was 5 days.
The steel seawall we built included 6 steps in it and a landing between half of the steps. This brand new steel seawall ended up being 140 feet in length, and 36 inches in height. After the seawall was constructed, we built a boardwalk and retaining wall out of treated lumber and attached them to the seawall. We used treated lumber (4 x 6 timber) to construct the retaining wall, which was tiered and installed around the perimeter of the boardwalk, ending up at a height of 9 inches. The boardwalk, which was also made from treated lumber, was 25 feet in length and 6 feet wide. As we typically do with our seawalls, riprap was placed at 100% of the water-ward toe of the wall, and the entire area of the seawall was backfilled, graded, top-soiled, and seeded.

Lake Neva is a relatively small lake, as it is only about 47 acres in size. The lake itself consists of several wide canals with residential homes on both sides. Lake Neva is a private, all-sports lake with no public access and no public beach. Those who reside on Lake Neva enjoy its sandy bottoms and frequently make use of the lake for water activities, such as pontoon boating.
The township of White Lake lies within the greater Oakland County of Michigan. Oakland County is said to have a population of approximately 1,202,362 residents and a total area of 908 square miles, of which 872.51 square miles is land, and 35.49 square miles is water.
At Seaside Seawalls, we stand by the work we do. That is just one of the reasons why we offer a 10 year guarantee on our seawalls! Unlike other construction companies, we do not cut corners at Seaside Seawalls. Each and every job is carefully considered and planned out before any construction efforts begin. We build our seawalls to withstand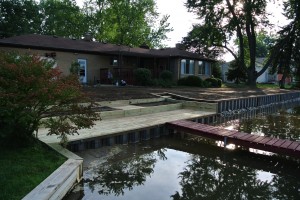 the ever-changing ground pressure due to the extreme weather conditions here in Michigan. Whether your latest project includes having a seawall, retaining wall, or boardwalk constructed (for a full list of the many other services we offer, check out our Services Page), our team of highly qualified and trained professionals possess the skills that are necessary to help you construct that attractive and functional waterfront property you've always dreamed of having! Please feel free to contact us today for your free estimate!