We've been very busy lately here at Seaside Seawalls! Not only have we been constructing brand new seawalls for customers all over Michigan, but we've also been installing decks, docks, boardwalks, and even repairing old seawalls that are failing. Speaking of seawall repair, we just completed a job on Grand River, which is located in the village of Dimondale (often misspelled 'Diamondale') in Eaton County, Michigan.
Seaside Seawalls was contacted to repair an existing wooden seawall for a residential client situated on the Grand River in Dimondale.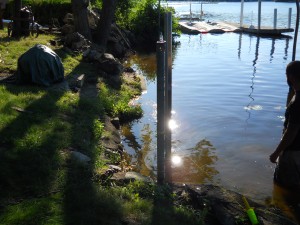 The preexisting seawall was failing, causing movement of the wall which could inevitably lead to shoreline erosion, a common problem that we see a lot of in this industry. In fact, shoreline erosion is probably the number one reason Seaside Seawalls is contacted! Whether it is to repair an old seawall, or to completely tear one down and build a new one, shoreline erosion is often cited as the reason. Therefore in order to prevent any further movement of the existing seawall, and to ensure the seawall's overall longevity, repairing this wooden seawall was necessary.
The existing wooden seawall was a total of 80 feet in length and 42 inches in height. The seawall also had a 4 foot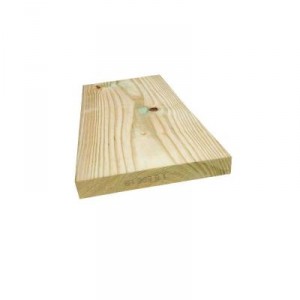 wide boardwalk along the entire structure of the wall, so we had to ensure that our construction efforts would not affect both the appearance and functionality of the boardwalk. The materials we used in this seawall repair project included steel tiebacks and treated lumber. First, we attached a new 4 x 6 treated lumber wall to the top portion of the existing seawall using carriage bolting. We chose carriage bolting over a steel channel iron wall for two reasons: 1) carriage bolting the 4 x 6 timber was the most durable option, and 2) a steel channel iron wall would not have blended in with the existing wooden wall, causing it to stand out and appear inconsistent. After attaching the new treated lumber to the top of the existing seawall, we installed steel tiebacks every 6 lineal feet along the wall. This was done to not only straighten the seawall, but also to prevent any further unwanted movement.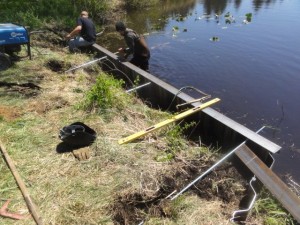 As we were working, we discovered that the portion of the seawall that was in the worst condition consisted of a 20 foot stretch. For this part of the wall, we installed more tiebacks (every 3 – 4 lineal feet) to allow a better pull back of the wall. Another thing we did to both straighten and strengthen the overall wall was install 4 x 4 lumber posts along the backside of the boardwalk, attaching the framework to it. We also replaced any broken decking boards and installed brand new ones to ensure a consistent appearance and of course a sturdy and functional structure.
Grand River is the longest river in Michigan, spanning a total distance of 252 miles and covering over 18 counties and 158 townships. It is a popular fishing destination, as it is home to several different types of fish including salmon and trout. Part of the Grand River runs through Eaton County, which is home to about 107,759 residents. Eaton County has a total area of 579.02 square miles, of which 576.41 square miles is land and 2.61 square miles is water.
Whether you're looking for a reliable and reputable construction company to repair your existing, failing seawall, or you're just looking to spruce up your business or residential waterfront property, feel free to contact Seaside Seawalls today for a free estimate! Our team consists of several qualified and dedicated team members who are both knowledgeable and skilled when it comes to making your waterfront property both attractive and functional. So what are you waiting for? Your marine landscaping dream is just a phone call away!