Seaside Seawalls was recently contacted to install a brand new galvanized steel seawall and an upland steps inlet for a residential customer on Cavanaugh Lake, which is situated in Washtenaw County in Chelsea, Michigan. In fact, this is our first article about a project we have done in the beautiful city of Chelsea! This quaint yet picturesque town has an estimated population of just 4,944 people residing in the city's total area of 3.7 square miles (of which 2.6 square miles is land and 0.04 square miles is water).
In preparation for this job, we had to gather the necessary equipment and supplies we would need in order to get the job done in both an orderly and timely manner. Since the customer wished to have an inlet for steps installed in addition to a galvanized steel seawall, we estimated the time to complete the job at 6 days. For this particular job, we would need our trusty excavator as well as our skid steer. The materials we used included galvanized steel for the seawall and sand for the backfill of the wall.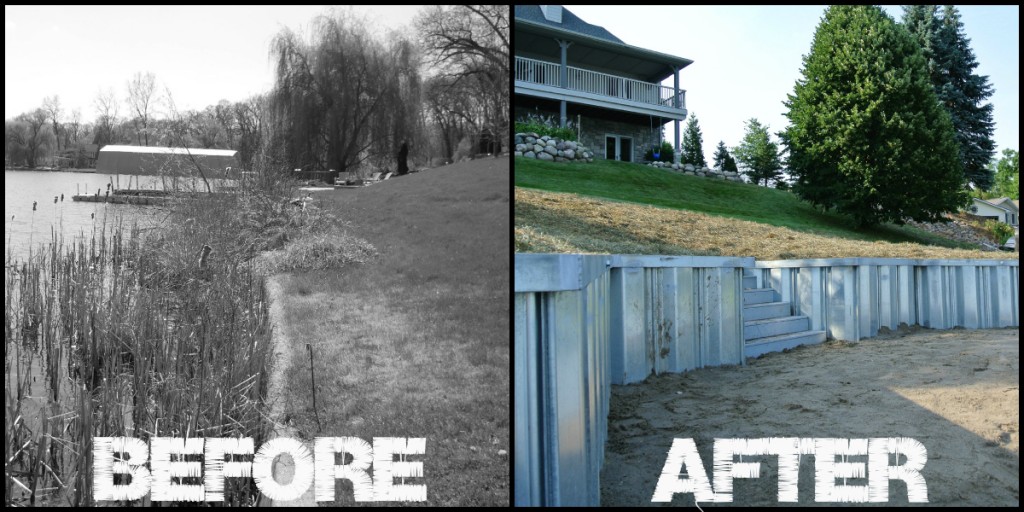 An interesting detail about this project is that the steel seawall was installed upland of the ordinary high water mark. This of course meant that the steps inlet we'd be installing would also have to be upland of the water mark. However, this was not an issue for our team of highly trained construction experts, who were able to pull off this job beautifully, keeping both functionality and appearance in mind throughout the duration of the project.
The brand new galvanized steel seawall ended up being 158 feet in length and 42 inches in height. As previously mentioned, we incorporated 5 steps into the seawall that were 7.5 feet in width with 6 foot returns on the sides. For the treading on the steps themselves, we used a gray colored composite board to ensure uniformity across our construction efforts and to finish off the "look" of the project. Additionally, we welded an angle iron dock ledge to the face of the brand new steel seawall so that the homeowner could someday put his dock there!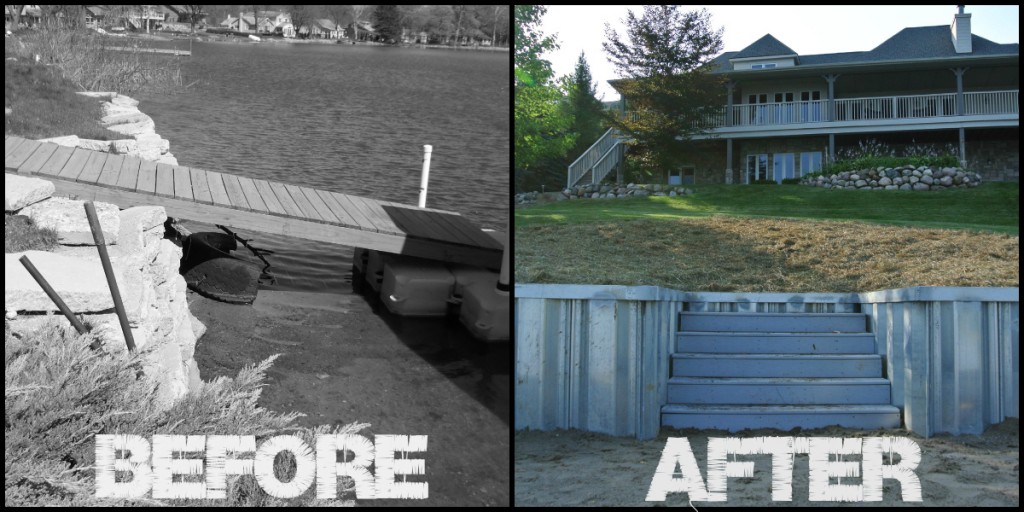 Cavanaugh Lake is 199 acres in size and is an all-sports lake with no public boat access. Because of this, the lake is known to be very peaceful and tranquil by those who live around it. The entire lake is surrounded by 3 miles of road which is commonly used by walkers, joggers and cyclists. Furthermore, Cavanaugh Lake is located just 5 miles away from downtown Chelsea, making its location very convenient and practical.
The city of Chelsea is located in the greater Washtenaw County of Michigan. Washtenaw County has a total population of about 344,791 residents and a total area of 722.53 square miles – 709.94 square miles of which is land and 12.59 square miles of which is water.
We stand by our word and the work that we do here at Seaside Seawalls. That's just one of the reasons that our seawalls come with a 10 year guarantee. We do not believe in cutting corners and taking shortcuts, as we complete each job (from the initial planning stages all the way to the construction phase and completion stage) to the very best of our ability. Our seawalls are known to outlive many of our competitors', and can withstand the ever-changing ground pressure that we experience due to our extreme weather conditions here in Michigan. So whatever your latest marine construction project may be, our team is qualified to help make it a reality for you in both a timely and organized fashion. Contact us today for a free estimate on your residential or commercial waterfront property!