During the Spring, Seaside Seawalls completed a gorgeous galvanized steel seawall for a customer situated on Sylvan Lake in Waterford, Michigan. Waterford is located in the greater Oakland County, and is home to approximately 71,707 residents. With many of these homes located around the numerous lakes that Oakland County's "Lakeland paradise" has to offer, this is a popular area in which our team often works.  
For this particular job, Seaside Seawalls was contacted in order to replace a pre-existing seawall, which was over 35 years old, rusting, and failing. Failing seawalls are something that we see a lot of in our line of work, as we are often contacted to replace old seawalls and construct newer ones in their place. A failing seawall is usually due to a combination of poor construction efforts (i.e. not inserting the pilings deep enough into the ground) and the extreme weather changes we experience here in Michigan. With the harsh Michigan winters that bring the inevitable heavy snow and ice, the ground below becomes pressured and subsequently leads to uneven or failing seawalls and/or shoreline erosion problems.  
Galvanized steel is actually one of the most durable and maintenance-free types of steel that we offer at Seaside Seawalls. While we do offer black steel as well as galvanized steel, galvanized steel is an attractive option for many of our customers due to its built-in zinc coating, which acts as a protective agent, and helps prevent rusting and erosion – two common problems we see often in older, failing seawalls. Using galvanized steel for a seawall is usually our customers' first choice, largely due to the maintenance-free nature of the material and its sheer longevity or long lifespan. Not to mention, galvanized steel has an attractive gray appearance which is appealing to the eyes!
For this job, we first had to obtain the regular DEQ permit before we began construction. However, in addition to the DEQ permit, we also had to acquire a WRC Soil and Erosion Permit for this job. After all of the necessary permits were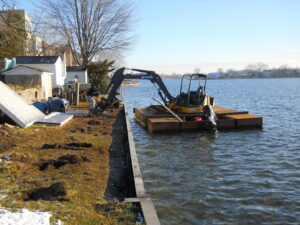 obtained, we were finally able to begin the construction of the brand new galvanized steel seawall. But this project presented us with a few unique challenges. First off, we did not have much land space to work with on this job, and therefore we had to manually bring in (via wheelbarrow) all of the backfill that we'd be using. Second, there was no easy access for the large machinery this job required from the land. Therefore, we had to construct the seawall using an excavator on a barge from the water. We had to launch this barge at the Sylvan lake Public Launch and then move it over to where we needed it in order to install the seawall accurately.
Once construction was underway, we had to ensure that we were not only meeting the needs of our customer, but also complying with the two permits we had to obtain. This meant that the steel seawall had to be constructed about 1 foot from the waterside of the pre-existing seawall, in order to meet the terms of the DEQ permit. Additionally, we had to use about 4 to 8 inches of riprap (Michigan fieldstone, specifically) at the toe of the new galvanized steel seawall, which was in accordance with the permits we had acquired.
First, we leveled off the grade with a small slope (for drainage purposes) between the customer's existing retaining wall and the new seawall we'd be installing. Both of the pilings at the end of the new seawall also had to be custom form-fitted and welded to each adjacent neighboring wall. The brand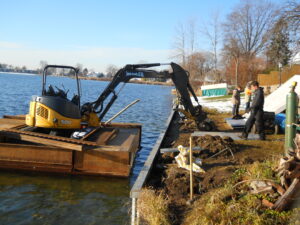 new galvanized steel seawall we constructed turned out to be 61 feet long and 40 inches high. It was also angled toward the adjacent neighbors' steel seawall at the property line.
Sylvan Lake is centrally located in Waterford, Michigan, which is a part of the larger Oakland County. The lake is home to several species of fish and wild animals, but also to its residents who frequently make use of all that the lake has to offer – especially during the warm summer months! The township of Waterford, in which Sylvan Lake can be found, has a total area of 35.3 square miles, with 4.0 square miles of that being water. Waterford, like its name would suggest, boasts a total of 34 lakes and makes it an appealing destination for both summer and winter activities. With a population of 1,202,362, Oakland County has a total area of 908 square miles of which nearly 4% is water! While of course Michigan is well-known for its plethora of lakes, Oakland County is a popular destination for individuals and families who partake in both summer and winter activities such as boating, jet skiing, kayaking, wakeboarding, snowmobiling and ice fishing.
So if you're looking to spruce up your waterfront business or residential property today, and have questions or concerns, please feel free to contact Seaside Seawalls for a free estimate! We take great pride in our work, whether it be installing a seawall, building a dock, or constructing a deck (see our Services Page for more details on the many services we offer) – Seaside Seawalls is made up of qualified and skilled team members who are eager to help you make your waterfront property both beautiful and functional. What are you waiting for? Your dream lakefront property is only a phone call away!