Here at Seaside Seawalls, we are proud to announce the recent completion of a black steel seawall on the beautiful Green Lake in West Bloomfield, Michigan. Green lake is a very calm and tranquil lake, as it is only 100 acres with no public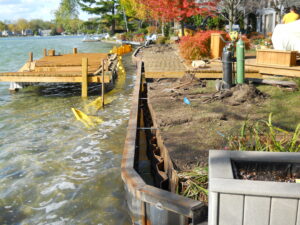 access, and is therefore a peaceful paradise for the residential community who reside there. Seaside Seawalls was contacted in order to remove this particular resident's existing seawall, as it was over 35 years old and therefore failing. However, any construction within the private residential community situated on Green Lake requires several permits. This meant that our team not only had to acquire a DEQ permit (as usual), but two additional permits. Since West Bloomfield is part of the greater Oakland County, we had to obtain an OCDC Permit (Oakland County Drain Commission) as well as a West Bloomfield Wetland Permit. The West Bloomfield Wetland Permit even required our team to attend a mandatory meeting in front of their Wetland Review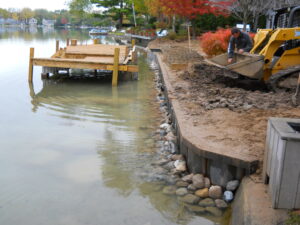 Board to ensure that any construction in this area was approved and deemed acceptable. In fact, a Wetland Consultant had to visit the area in order to determine if installing a steel seawall was, in fact, the best solution to the common problem of shoreline erosion due to the existing failing seawall. Even after the West Bloomfield Wetland Permit was approved, we had to wait for a 21-day period in case there were any objections to our construction efforts from neighbors. But after the long process of applying for and acquiring all of the necessary permits, Seaside Seawalls was finally able to start this exciting project!
First and foremost, we had to remove the existing seawall as well as the cantilever deck in order to install our brand new black steel seawall. Removing the cantilever deck was necessary, even though the customer still wished to have a deck, because we needed to be able to construct the new seawa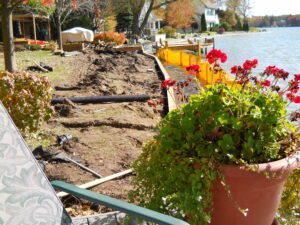 ll without any barriers. For that reason, we set the cantilever deck aside after dismantling it so it could be re-installed upon completion of the seawall. Our team then had to construct a black steel seawall (in accordance with the regulations and permits we had acquired) directly in front of where this resident's existing seawall was.
The entire project took about five days to complete, with the brand new black steel seawall being approximately 105 feet in length and 3 feet in height. Another interesting detail that is unique to the location of this particular job is that West Bloomfield requires a 60 foot planting bed to act as mitigation to any natural environmental impact from any newly installed seawall. To meet this requirement, Seaside Seawalls stacked between 4 and 8 inches of Michigan fieldstone (boulders and riprap) high at the toe of the new seawall. For those of you who don't know what "riprap" is, it's basically rock material that is used to keep shorelines and their structures (i.e. seawalls) from eroding due to the inevitable and ever-changing weather and ground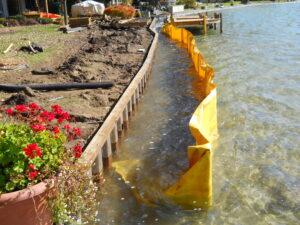 conditions which could ultimately have a negative impact on the shoreline (and will usually lead to shoreline erosion if left untreated). After the new black steel seawall was installed successfully, our team re-constructed the homeowner's deck, and assisted with installing trusses to overhang the seawall itself.
As previously mentioned, Green Lake is a private lake with no public access. It is a very calm lake, since it is not an all-sports lake, and therefore only electric motors are permitted (meaning there are no jet skis, wake boarding, or other noisy activities allowed). While residents can make use of electric motor boats on this lake, there is generally very little wake since these boats are not very powerful nor do they go very fast. This makes Green Lake and it's many waterfront properties an ideal place to relax and take in the beautiful scenery and summer weather with very little disturbance. Since the lake is relatively small (about 100 acres), its deepest point is 72 feet.
The Township of West Bloomfield, in which Green Lake can be found, has a population of about 64,690 and is well-known for its many large-sized homes, winding roads, and scenic rolling hills and scattered lakes and streams. In fact, residents of West Bloomfield often affectionately refer to the township as the "Lake Township of Oakland County", as it is home to several small and medium-sized lakes. West Bloomfield is just one of the 62 Townships and villages located in the greater Oakland County, which is said to have a population of approximately 1,202,362 and a total area of 908 square miles. About 35.49 square miles (nearly 4%) of this is water, making Oakland County a great destination for water-related sports and activities!
With summer being just around the corner, you may be looking to enhance the appearance of your waterfront property in Michigan.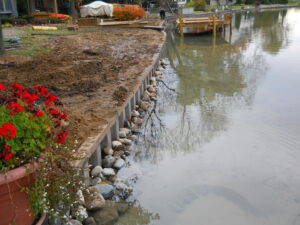 Seaside Seawalls is a reputable and trusted company made up of several excellent team members with years of experience under their belts! Our past customers will tell you how pleased they are with their brand new seawalls, docks, decks, and other construction services we offer. So if you're thinking about a summer construction project, and would like some help with the planning and execution of your latest idea for your waterfront residential or commercial property, contact Seaside Seawalls today for a free estimate! Our team would be happy to hear from you and help make your summer landscaping dreams a reality!