Seaside Seawalls has recently completed a beautiful new galvanized steel seawall, a gray composite platform deck, and a permanent L-shaped dock for a residential property situated on Hiland Lake in Pinckney, Michigan. This project took a little over two weeks to complete, but we would love to update you with the details and even some pictures of this particular project! Pinckney, which many of you Michigan-natives will know, is located in Livingston County – one of Michigan's "cabinet counties" that is home to approximately 180,967 residents. With a total area of 585.43 square miles (with 17.03 square miles of that being water), Livingston County is also home to several lakes and rivers – Hiland Lake being just one of them.
Our team was contacted to install a galvanized steel seawall as well as a gray composite deck and L-shaped dock for this particular client residing on Hiland Lake. Not only was the clients' previous seawall failing, but the dock that existed prior to our construction efforts was literally falling apart. In order to enhance both the appearance and value of this beautiful residential lakefront property, the client wished to have a brand new seawall and dock installed by our team. Naturally, a DEQ Permit was necessary for this job. After obtaining our permit, Seaside Seawalls was able to tear out and remove the existing deck, which was in very bad shape. We were, however, able to use some of the existing concrete pieces from the previous seawall that was installed as backfill for the new wall. All of the backfill for this particular job had to be done manually. What this means is that because there was not adequate access for our large machinery, our team had to use wheelbarrows and make multiple trips in order to complete the backfill for the seawall. With the location being kind of tricky to work on, we had to do all of our work with an excavator on a barge! It was definitely an interesting experience!
The steel seawall itself turned out to be about 72 feet in length and 3 feet in height. After the seawall was installed, we welded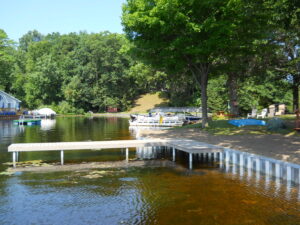 the platform deck (which was about 12 feet long and 4 feet wide) to the face of the seawall. To construct a platform deck that was both visually appealing and functional, we utilized gray composite deck board so that it would nicely match and compliment the color of the galvanized steel seawall we had just installed. After both the seawall and deck were constructed, we installed an L-shaped dock that was 20 feet long and 4 feet wide. Again, the dock was covered with the same type of gray composite deck board (as the deck was) in order to match the rest of the project. The dock also consisted of galvanized pipe to support the posts, which were driven approximately 8 feet below the sand line. All of the framing for the dock was steel angle iron welded together with the eye-catching gray composite deck board, which was bolted to the surface to ensure an attractive and similar overall appearance.
An interesting fact about this particular job was the soil conditions. Our team of professionals knows how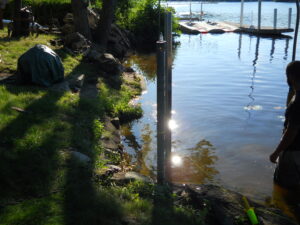 important it is to install pilings for any construction project well below the sand line to prevent things like shoreline erosion – a common problem that we see a lot of in old seawalls that are failing. With this particular project, the soil conditions were quite sandy, so we were only able to drive our pilings about 4 feet below the sand line. Luckily, with sandy soil conditions such as these, this is a sufficient depth for pilings.
A little more information about Hiland Lake: it is a 122 acre man-made, all-sports lake located in Putnam Township, Livingston County. It is home to several wildlife species as well as many local residents with lakefront properties. All Hiland Lake property owners are responsible for maintenance and repair of their property (including private roads and bridges), and insuring that the beauty, health, and quality of the area is well-preserved. This picturesque lake is located in a village known as Pinckney, which has a population of about 2,141. Pinckney, Michigan has a total area of 1.5 square miles, with approximately 3.25% of that being water (including Hiland Lake).
Our team of trained and qualified professionals at Seaside Seawalls not only possess the necessary skills it takes in order to construct everything from seawalls to docks (for a full list of our services, please visit our website's Services page), but also strongly believes in the work they do. In fact, we are one of the few seawall companies who offer a 10 year guarantee on our seawalls because we construct each and every seawall with the utmost professionalism and integrity to ensure its durability and resiliency against the ever-changing weather conditions of Michigan. Our clients will tell you that their seawalls, docks, and decks are constructed to meet their specific needs and requirements for their residential or commercial properties, as customer satisfaction is our top priority! With the warm weather on its way and the many summer water activities that your lakefront property has to offer you, why not contact Seaside Seawalls today for a free estimate? We have what it takes to make your property both visually appealing and functional for all your waterfront needs!