Seaside Seawalls is proud to announce the ongoing installation of a black steel seawall, brand new boardwalk, and the reattachment of dock slips for a residential client in Waterford, Michigan. Waterford belongs to the county of Oakland, and is home to approximately 71, 707 residents. Waterford is known as a "Lakeland Paradise", boasting a total of 34 lakes that both residents and visitors frequently make use of. The community of Waterford has a total area of 35.3 square miles, with 31.3 square miles of that being land, and 4.0 square miles being water.
Due to the harsh nature of Michigan winters, Seaside Seawalls was contacted in order to replace this residential property's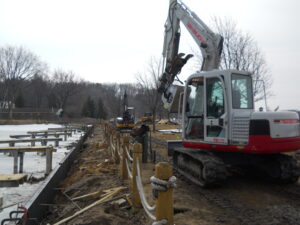 existing seawall, which was failing due to being short-sheeted. What this means is that after several years of exposure to harsh winter conditions, frost got under the short-sheeted pilings and pushed the previous seawall upwards (approximately 8 inches!). Other issues with the pre-existing seawall were with the backfill and the toe (or very bottom) of the wall, which was moved outward. Since the wall was being short-sheeted, meaning the steel was not deep enough into the ground, the toe of the wall which runs into the sand line was pushed upwards and outwards, allowing the sand behind it to leak out into the lake. As you can imagine, this caused an uneven seawall which no longer served its original purpose of preventing shoreline erosion. Poor drainage due to the short-sheeting of the previous seawall was one of the main reasons we were contacted to perform this job. It may also be of interest to note that the town of Waterford is slightly higher in elevation than Detroit (982 feet vs. 585 feet). This means that Waterford experiences colder temperatures and weather conditions than Detroit does, for instance, making this township more likely to experience seawall failing problems on its many lakes.
Over the years, Seaside Seawalls has had to replace several seawalls due to the common problem of short-sheeting.
While some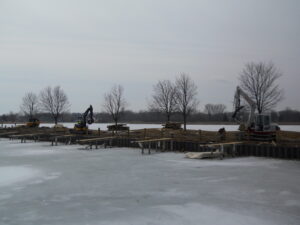 construction companies may have you believe that their seawall installation is top notch, and offer you a relatively low price for the installation of a brand new seawall, we have found that many of these companies do not install the steel for the seawall deep enough into the ground, thereby enabling short-sheeting issues and ultimately leading to shoreline erosion problems.
For this particular job, we had to remove the existing steel seawall from the ground. Sections of the seawall were cut and dug out, and then hauled to a metal recycling scrap yard. Additionally, we were asked to reattach dock slips and install a brand new boardwalk for this residential property on the beautiful and picturesque Cass Lake.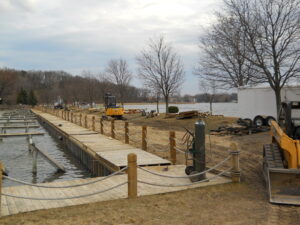 This is a very large project, and will take several months to complete. The boardwalk itself will be made from treated lumber with steel framing, and will be exactly 370 feet in length and 6 feet wide with a total of 18 dock slip attachments. As for the black steel seawall, it will also be 370 feet long and 4 feet high. The pilings are 6 feet in length and 4 feet above the sand line height wall.
Black steel is one of the two types of steel that Seaside Seawalls offers (black steel and galvanized steel).
It is a very durable material that is guaranteed to protect against the extreme weather conditions Michigan experiences. From scorching hot summers to bitterly cold winters, with a black steel seawall you can expect longevity and durability as well as a 10 year Seaside Seawall guarantee against the constantly changing ground pressure from heavy snow and ice buildup. Not only are these seawalls resilient against extreme weather conditions that can create shoreline erosion, but they are also very eye-catching with a professional appearance that speaks the highest standard of quality and durability.
Waterford is part of Oakland County in Michigan. There are many properties located along the 25 mile shoreline of the beautiful Cass Lake, which is the County's largest lake (1280 acres). Cass Lake is also home to Dodge Park #4 – a Michigan State Park that boasts sandy beaches and a one-mile shoreline. During the summer, Dodge Park is a popular destination for visitors who enjoy water sport activities such as wakeboarding, water skiing, jet skiing, and kayaking. In the winter months, Dodge Park is commonly used for ice skating, ice fishing, and snowmobiling.
Cass Lake is a glacial-formed, all-sports lake with an average depth of 26 feet.  There is public access to Cass Lake via Dodge Park #4, with ample parking for 80+ vehicles with boat trailers, along with several boat launches. Orchard Lake drains into Cass Lake, making it the lake's main water source.
At Seaside Seawalls, we take great pride in the work we do.
Each and every one of our team members is qualified with the skills and experience that are essential in order to construct and install a durable and appealing seawall for your residential or business property. We have hundreds of satisfied customers in Michigan, and we would love to help you with the planning and execution of your next seawall project. If you're considering having a seawall, boardwalk, boat lift, or dock built (or repaired) on your waterfront property, do not hesitate to contact Seaside Seawalls today for your free estimate!