Recently, Seaside Seawalls began a job for a residential client on the Shiawassee River, located in Linden, Michigan. The town of Linden is part of Genesee County, which is Michigan's fifth most populous county and is home to approximately 425, 790 residents. Genesee Country has a total area of 694.34 square miles, with 639.64 square miles of that being land, and 9.70 square miles being water. The Shiawassee River is just one of the many water bodies that runs through Genesee County.
Having a waterfront property definitely has its pros and cons. While the location of your home may be very picturesque, you may constantly be worried about the inevitable shoreline erosion that occurs over many years, consequentially shrinking your property line. In fact, shoreline erosion is one of the main reasons home owners decide to have a seawall built. In this particular case, Seaside Seawalls was contacted to install a steel seawall for a residential property on the beautiful Shiawassee River. In addition to a brand new seawall, a boat well and boardwalk were also required. While this job is currently under development, we would like to keep you updated on our progress as the project continues to expand and develop.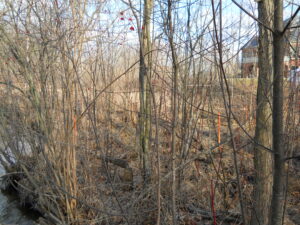 Seaside Seawalls offers two types of steel: black steel and galvanized steel – both of which are equally durable and long-lasting against the harsh and extreme weather conditions we experience here in Michigan. In fact, many residential properties in Michigan choose to have a steel seawall installed as opposed to a vinyl or wooden seawall, typically because the life-span of a steel seawall greatly exceeds all other types. With securely installed anchors and tiebacks coupled with such low-maintenance, a steel seawall is an attractive option for both residential and commercial properties alike. Our steel seawalls are the best at protecting against shoreline erosion, and are guaranteed for 10 years against the ever-changing ground pressure due to heavy snow and ice. They also have the added bonus of having a professional appearance, and provide you with the highest return on your property investment.
For this particular seawall, we will be using black steel, which is one of the strongest, resilient, and low-maintenance types of steel available. As we do with every steel seawall, drainage weepholes will be installed and enforced with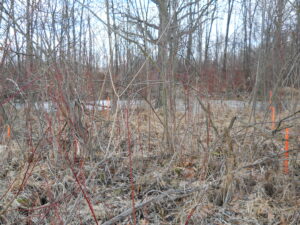 geotextile fabric mesh in order to ensure adequate drainage through the newly constructed seawall. Upon completion, this steel seawall will extend a total length of 84 feet and reach 4 feet in height. The seawall will also be approximately 4 feet from the property's sand line. As previously mentioned, we will also be installing a boat well, which will be 30 feet in length and 15 feet wide. In order to construct this particular boat well, we will have to excavate about 4 feet down to ensure that the water level is between 2.5 and 3 feet deep. The seawall will be constructed around the perimeter of this excavation.
Known for its surrounding wetland, construction along the Shiawassee River required Seaside Seawalls to obtain two permits for this particular job: a Department of Environ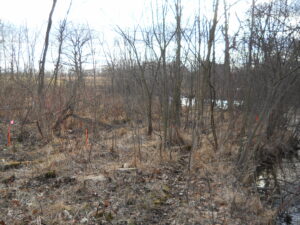 mental Quality (DEQ) permit and a wetland permit. The wetland permit is unique to this project, since it includes a major impact permit, which is ten times the cost of the standard minor impact permit. We were also required to put boards down in order to run our heavy construction machinery over without leaving ruts in the ground. Additionally, the wetland area surrounding the River requires us to dispose of all excavated spoils properly; therefore they will be transported upland and spread in lower grade areas accordingly. Construction on wetland area also meant that we would have to install a boardwalk to allow the client to walk to and from the newly installed boat well without disturbing any wetland area. Upon completion, the boardwalk will extend approximately 30 feet beyond the boat well area, reaching a total length of 60 feet with a 4 foot width.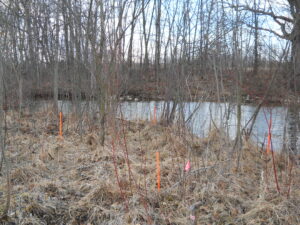 The Shiawassee River is about 120 miles in length, merging with the Flint River, the Cass River, and the Tittabawassee River; all  of which drain into the Saginaw River and eventually the Saginaw Bay of Lake Huron. The Shiawassee River also marks the southern boundary of the Saginaw Bay Watershed. With over 59 species of fish and other freshwater species, the Shiawassee River is also home to approximately 180, 000 residents, who frequently take advantage of this warm-water river's natural resources and utilize it for recreational purposes such as canoeing and fishing.
While we expect this particular job to be completed in a couple of months, please stay tuned for updates of the latest developments on the Shiawassee River steel seawall project! Our qualified team members possess the necessary skills and experience it takes to construct both a durable and attractive seawall for your waterfront property. So if you're considering having a seawall built for your commercial or residential property, please contact Seaside Seawalls today for a free estimate.