Seaside Seawalls has recently completed a four-day installation of a brand new galvanized steel seawall for a residential property situated on Woodland Lake. Woodland Lake is located in Livingston County in Brighton, Michigan, which is in the southeastern part of Michigan's Lower Peninsula. Livingston County is the fastest growing County in Michigan, and is home to approximately 180,967 people.  The County has a total area of 585 square miles: 568 square miles of land and 17 square miles of water.
Seaside Seawalls was contacted to build a seawall for a residential property on Woodland Lake, as their previous seawall was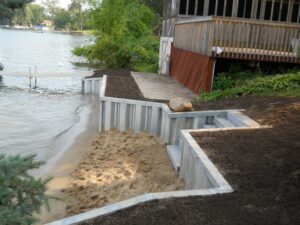 failing, causing severe shoreline erosion. The team used galvanized steel to construct the seawall, as it is one of the most durable, long-lasting, and maintenance-free types of materials. In fact, many Michigan seawalls are built with galvanized steel, since its protective zinc coating prevents erosion and rusting, even if the steel becomes abraded or scratched. We all know how harsh a Michigan winter can be, and heavy snow and ice pressure can directly (and negatively) impact the rate of shoreline erosion. But with a galvanized steel seawall, shoreline erosion is preventable, and it also has the added benefit of providing you with a higher return on your property investment! While we do offer two types of steel seawalls (galvanized and black steel), which are both equally as good at withstanding harsh weather, galvanized steel is often preferred due to its attractive gray appearance. With this particular project, we even incorporated steps into the seawall (as pictured) which were made from welded angle iron with gray trex board bolted to it in order to match the color of the seawall! The steps turned out wonderfully and added to the overall uniqueness of the project as well. Another distinctive characteristic about this particular seawall is that it had different heights and angles alongside the property, giving it a unique appearance. The completed steel seawall on Woodland Lake is a total of 60 feet in length and ranges between 36 and 44 inches in height (due to the varying angles and heights of the property).
Woodland Lake is visible from both Grand River Avenue and Hilton Road in Brighton. This convenient location can be accessed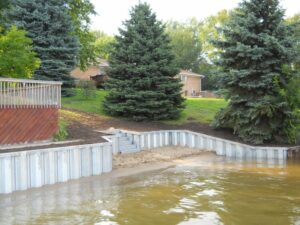 through the Grand River exit on the I-96, with public access available via Hilton Road. While there is no public beach, Woodland Lake's unique L-shape makes it a popular destination for its lakeshore residents, who utilize this all-sports lake most often during the summer months. Residents enjoy the unique shape of the lake, as it appears seemingly endless in comparison to the typical circular-shaped lakes that are commonly found in Michigan. Woodland Lake's surface area is approximately 309 acres, with its deepest point reaching 38 feet. The lake also has an extensive shoreline, spanning a total distance of 41,943 feet. Since Woodland Lake is fed by Ore Creek as well as two other streams, the water has exceptional clarity, with a depth visibility of about 6 to 8 feet.
If you're considering having a seawall built for your residential or commercial property, contact Seaside Seawalls today for a free estimate! For such a large project, you're going to want to ensure that you are hiring the best team to do the job. With a steel seawall, you can take comfort in knowing that its lifespan and longevity is one of the greatest in comparison to other types of seawalls. In addition, a steel seawall is practically maintenance-free! That's why we guarantee our steel seawalls for 10 years – even against the inevitable snow and ice buildup which can alter the ground pressure. Don't let other contractors try to sell you on a seawall installation at a lower cost if they don't have the credibility and knowledge it takes to build a sturdy seawall. Shortcuts such as altering the anchors, tiebacks, or the lengths of the steel pilings may look good at first glance, but will not be durable enough to withstand the drastic weather fluctuations that we experience here in Michigan. This means that while you may think you're getting a good deal cost-wise, the quality of your seawall is less than perfect and will likely have to be replaced in a year or two. If you value quality and precision, and wish to have a gorgeous lakefront property, contact Seaside Seawalls today! Our team has the necessary experience, knowledge, tools, and machinery to create a seawall for your property that is both exceedingly attractive and highly durable.