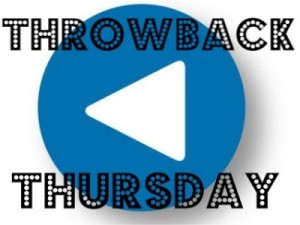 Consistent with the theme for our Throwback Thursday series, today we are going to take a look at a previous seawall construction job on Coon Lake.
Coon Lake is an all-sports private lake located in Howell, Michigan. It is approximately 106 acres in size with a maximum depth of 50 feet. A popular destination for fishermen and women alike, Coon Lake offers a variety of fish such as bluegill, sunfish, warmouth, perch, crappie, carp, northern pike, and largemouth bass to name a few. With a plethora of fish species in this lake, those who enjoy fishing are very likely to get a good catch here!
Throwing it Back to Our "Dual" Seawall Construction Project
This job was pretty unique, due to the fact that it was kind of a "dual" seawall construction project. What we mean by this is that we actually constructed two different types of seawall for this lakefront residential customer: a beautiful, eye-catching ledgerock seawall along the lakeside frontage, and a sturdy galvanized steel seawall along the canal side and frontage of the property. As you can see from the pictures, a ledgerock seawall is not only practical for keeping shoreline erosion at bay (no pun intended), but is also very easy on the eyes. We often refer to our rock seawalls as "works of art", as laying and interlocking each rock carefully often feels like creating a masterpiece – it requires patience, and also a flair of creativity!
As for the galvanized steel seawall portion of this job, it was imperative that we built a sturdy wall since natural springs had originally caused one portion of this customer's shoreline to erode and wash away. Therefore, the new steel seawall was installed along the upland side of these springs, which means that they will have no future issues with water collecting behind the new wall and freezing. Once again, it was Seaside Seawalls to the rescue!

The Importance of the Ordinary High Water Mark When Constructing a Seawall
First things first, we had to acquire a DEQ Minor Impact Permit specifically for the rip rap to be installed at the shoreline, or the Ordinary High Water Mark (OHWM). In case you're not familiar with this term, the OHWM refers to the line on the shore that is indicative of where the water level of that lake naturally sits. While the OHWM varies from lake to lake, it can be found by locating a clear line that is impressed upon the shore, bank, or previous existing seawall. This line is established by the many fluctuations of water throughout the year due to things like shelving, changes in the soil, the presence of debris and litter, or physical, man-made alterations to the natural vegetation of that area. Why is determining where the OHWM is important, you ask? Think of it this way: when deciding what height to build a seawall, a certain level of water needs to be established to ensure that the wall will do its job of separating land from water. If constructed at too low of a level where the water ends up coming over the top of it, the seawall will be rendered incapable of creating that important barrier between land and water. And we all know what that means, right? Shoreline erosion! Definitely not something any waterfront property owner wants to see happen. Therefore, it is imperative for marine construction professionals to identify the OHWM on a particular body of water (one way is to look at other seawalls and see where the water stain is) and then make sure the new wall is constructed at the grade of the land or upland of the OHWM. For this particular job, we installed both the ledgerock seawall and the galvanized steel seawall upland of the OHWM.
Getting Down to the Nitty Gritty: Constructing the Two Seawalls
Now that we've discussed the importance of finding and taking into consideration the Ordinary High Water Mark of a given body of water, we will now resume our discussion of this particular job!
This was a relatively large project as far as time spent from initial construction to completion. Typically, our jobs take us from a few days to a week to finish, but this one ended up taking us 1.5 weeks in total. This was, in part, due to the complexity of the job (having two types of seawall) as well as the physical length of both of these walls (100 feet for the ledgerock wall and 200 feet for the galvanized steel seawall).
Of course we had to use our trusty excavator to complete such a job! However, we needed to utilize the vibrator compactor for the galvanized steel portion of the seawall construction, and the thumb attachment (to grasp the stones) for the ledgerock wall.
The final product resulted in a 200' x 4' galvanized steel seawall, and a 100' x 2.5' mocha colored Canadian ledgerock wall. As you can see from the images, this is one eye-catching seawall construction project!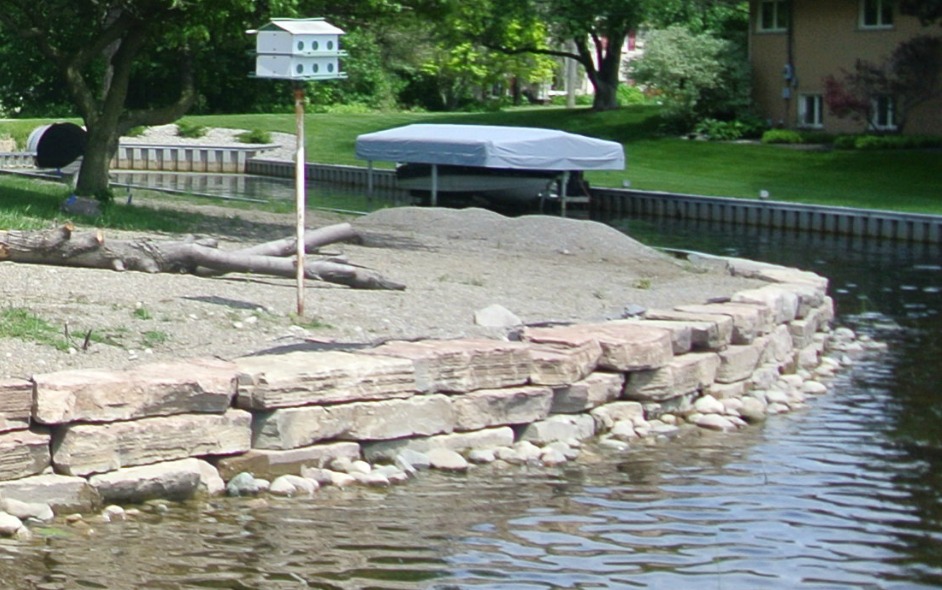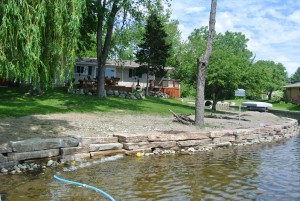 With the Fall season upon us and Winter just around the corner, you may be worried about the integrity of your existing seawall, or wondering about shoreline erosion and your waterfront property. If you're looking for a group of experienced, conscientious, and highly trained professionals to help you with your marine construction project, look no further: Seaside Seawalls has got you covered! With a variety of services offered and competitive pricing, our dedicated team of professionals can help make your seawall construction dreams a reality! Please do not hesitate to contact us with any questions you may have, as well as to obtain your free estimate.