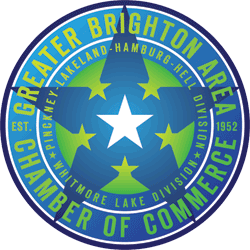 Big news at Seaside Seawalls this week! We are both excited and proud to announce that we are one of the newest members of the Greater Brighton Area Chamber of Commerce! Located in the heart of the quaint, yet beautiful City of Brighton, The Chamber has members all across the lower half of Michigan. Additionally, the Greater Brighton Area Chamber of Commerce has two separate Chambers within it: the Pinckney, Putnam, Hamburg, Hell Chamber of Commerce, and the Whitmore Lake Chamber of Commerce. Since these two Chambers fall under the umbrella of the Brighton Chamber, they are able to enjoy the same benefits as local members.
With the 3 core standards of value, integrity, and leadership as the principles guiding their vision, the Greater Brighton Area Chamber of Commerce aims to promote opportunities for local businesses by fostering a successful business community. How does this benefit us? Apart from the many cool discounts at places like AAA of Michigan and Comcast Business Class, there are other membership perks, such as the two major discount programs offered: Blue Cross Blue Shield of Michigan and Accident Fund Workers Compensation Insurance. Furthermore, The Chamber boasts a pretty impressive and extensive list of participating local businesses in their Member-to-Member Discount Program. This means that members of The Chamber can enjoy discounts and special rates at many of these participating locales, which we think is pretty darn sweet!

Benefits of Greater Brighton Area Chamber of Commerce Membership
Being a member of the Greater Brighton Area Chamber of Commerce also has other benefits, such as notification and admittance to the many civic, social, business, and networking events hosted in and around the city of Brighton. These events allow local business owners the opportunity to meet other business owners as well as consumers in the neighborhood. And as we all know, this is highly beneficial for keeping up with the happenings of your community and business overall! Other benefits include:
Expanding Your Customer Base Through Local Events – There is no shortage of attendees at the many events and programs offered by The Chamber year-round. This means greater networking and an opportunity to expand your business' customer base!
Business-to-Business Networking – With over 1,200 businesses, members of The Chamber enjoy the ability to network with local businesses and the employees of these companies at local functions. The perks? You got it! Networking, networking, networking, which means more potential clients for your business!
Referrals – The Chamber offers referrals through phone, the websites, e-mail, direct mail, the membership directory, and other sponsorships.
Education & Training – Also offered (on a monthly basis) are training programs that deal with everything from legal issues to leadership and professional development – most of which are free of charge.
Sponsorships – As we all know, one of the best ways to gain visibility as a small business as well as foster marketing opportunities is through community sponsorship, and this is yet another thing membership to The Chamber offers.
Publicity – Between The Chamber's 3 websites and the three other publications (Membership and Community Guide, The Chamber's Direct Mail program, and Update Magazine), there are plenty of advertising opportunities in both online and print for members!
As you can see, there are many reasons to become a member of the Greater Brighton Area Chamber of Commerce, just like we did. Check out our listing on their website, and if you're interested in becoming a member (why wouldn't you be?), don't be shy – contact The Greater Brighton Area COC today for more information!