In the beautiful city of Ann Arbor, Michigan, Seaside Seawalls built a gorgeous black steel seawall and beach inlet for a residential customer's waterfront property. Ann Arbor, known for its historical sites and the famous University of Michigan (U of M), is home to approximately 113,934 residents, making it Michigan's sixth largest city. In fact, Ann Arbor has a total area of 28.70 square miles, of which 27.83 square miles is land and 0.87 square miles is water. The well-known Huron River runs through Ann Arbor, making up the majority of this total water area. Because of this, Ann Arbor has a high production of agriculture and fresh fruits. Before we began any kind of construction on this customer's property, we first obtained the materials and machinery we'd need in order to get the job done. Materials consisted of black steel and black steel pilings, composite board, and sand for the backfill of the seawall. We decided that we would need our trusty excavator for the job, as well as a skid steer.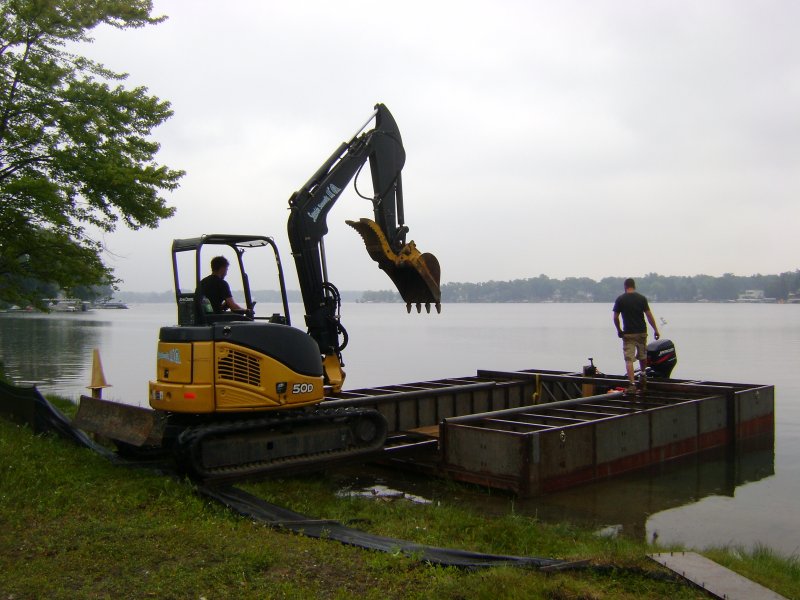 One interesting thing about this particular job was that we had to build our seawall upland of the ordinary high water mark. Due to the customer's pre-existing boulder rock shoreline, we first had to (carefully) remove these large rocks out of the way so that we could get in there and build the black steel seawall. After we completed the new seawall, we moved the boulders back, placing them along the edge of the new seawall for a nice, "finished" look. In addition to the rocks, we also used composite board over the cap of the new steel seawall which also added to its overall appearance. The brand new black steel seawall ended up being 120 feet in length and 24 inches in height.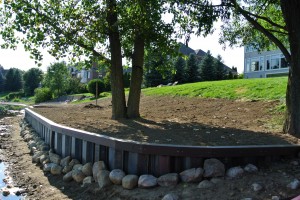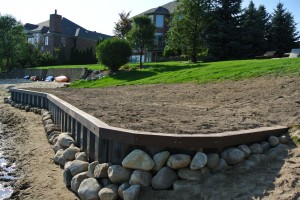 For the beach inlet we created, the dimensions were 12 feet by 8 feet. We put down some new beach sand in the inlet to give it both an appealing and functional look. By the time we were finished with our project, the homeowner had a terrific looking shoreline!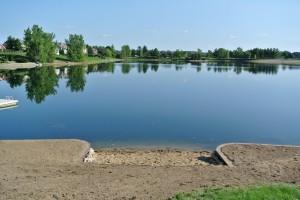 Washtenaw County, which is the county that encompasses the city of Ann Arbor in which this particular job was completed, has a population of about 344,791. This interestingly-named county was actually named after the Grand River. The Native American name for the Grand River, 'O-Wash-Ta-Nong', means "Far-away-water", and the county was named 'Washtenaw' because at the time (1826), the river's head waters were within the county's boundaries. Washtenaw County has a total area of 722.53 miles, of which 98.26% is land and 1.74& is water. Whether you're looking to upgrade the look of your residential or commercial waterfront property, Seaside Seawalls has got you covered! With the experience and expertise that is required to not only get the job done, but to get it done well, the Seaside Seawalls team can help you with your waterfront project from start to finish. Contact us today for a free estimate, and don't forget to follow us on Twitter for frequent updates on our company's latest news and projects!