With the commencement of the Autumn season, we are once again reminded that our good old friend Jack Frost will be arriving in the not-so-distant future. As we prepare ourselves for another Michigan winter – trading lawn mowers for snow blowers and swapping summer tires for winter ones – waterfront property owners must also prepare for the onslaught of the cruel wind, ice and snow. What many waterfront residents don't realize is that with this seemingly abrupt weather change comes shifting hydrostatic ground pressure that isn't always immediately obvious at a glance. However, changes in ground pressure often result in marine structures (such as seawalls) experiencing drainage issues, causing them to ultimately fail. And we all know what that means for our once perfectly landscaped and aesthetically-appealing waterfront property: shoreline erosion.
What is Shoreline Erosion?
For those of you not familiar with the term, shoreline erosion is what happens when the elements, waves, and strong weather forces such as wind or ice combine and grind up against where the land meets the water, displacing soil and other sedimentary particles. Over time, these simultaneous actions wreak havoc on the shoreline of a body of water, eroding and eating away at it slowly yet consistently at the turn of every season.
How Do Seawalls Help Prevent Against Shoreline Erosion?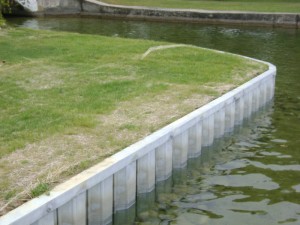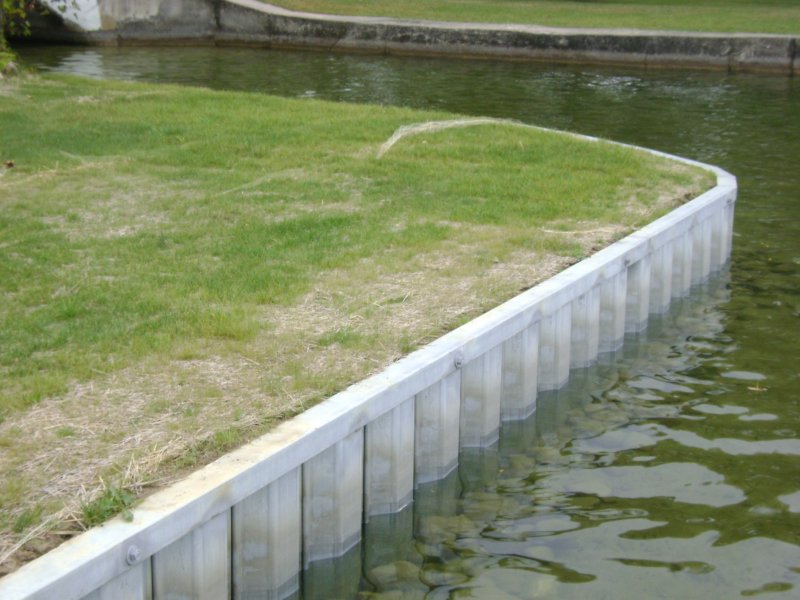 A seawall is perhaps the best defence against shoreline erosion, as its sole purpose is to ultimately protect the coast from the natural, yet damaging, interaction between water and land. Of course, however, the seawall is exposed to the same destructive forces that the shoreline was once subjected to, meaning that the proper installation of a seawall or the restoration of a failing seawall is of utmost importance. While indeed having a seawall constructed in the first place is a great way to protect your waterfront property from the inevitable weathering of the shoreline, recognizing that seawalls are a long term – but not a permanent – solution to shoreline erosion is key. That's why the ongoing monitoring and maintenance of these structures, including seawall repairs, is so important.
Common Reasons for Seawall Repairs
Probably the two most common reasons for seawall repairs are 1. improper drainage and 2. insufficient tiebacks (and the combination of these two is just a recipe for disaster!) With either of these issues present in a seawall, the result is often a shifting seawall that looks as though it's been pushed outward. This is very often due to built up hydrostatic ground pressure and/or water retention of the wall itself (in other words, poor drainage) which can lead to ice and eventually ice damage when the temperature changes.
Case in Point: Steel Seawall Repair in Waterford, Michigan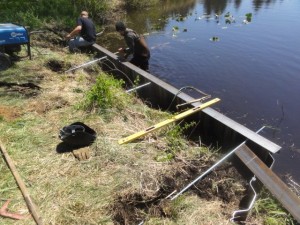 To further illustrate the process of a seawall repair job, we will now take a closer look at one of our previous jobs for a residential customer on one of the canals just off of Cass Lake and Coles Bay in Waterford, Michigan. This particular customer had a pre-existing seawall on their waterfront property before Seaside Seawalls was called in to repair it. The wall was 150 feet long and made of steel – a popular choice of material for Michigan seawalls. After diagnosing the problem and concluding that the wall was failing due to improper drainage, our team began their work. Typically for a wall this length, we would quote several days from the start of the project to the completion date, but our speedy and hardworking team was actually able to finish this particular job in just one day! First things first: obtaining a permit and gathering the necessary machinery and supplies. In this case, that included an excavator with a vibrating compactors flat plate (to vibrate on top of the pilings for smooth entry into the lake bed), a skid steer (to haul steel, soil, and materials to the shoreline), Class 2 fill sand, topsoil and seed (for the backfill), a perforated drain pipe with sock (to go along the back side of the entire length of the seawall, perforated every 4"), pea stone (to go around the pipe for proper drainage), 8 ounces of geotextile fabric, 3/4" threaded rod deadman (to attach to the seawall every 5 and a half feet from the waterside of the angle iron cap), torches and welders (to install the tiebacks and anchors to the wall) and a total of 27 tiebacks. In order to straighten out the existing seawall, we had to solve the drainage issue which would relieve any pressure that was causing the wall to stick out. This was done by using a drain pipe that was perforated every 4 inches and placed along the length of the wall behind it. Furthermore, pea stone was added around the pipe to promote adequate drainage. After we fixed the drainage problem, we were able to straighten out the seawall and prevent it from moving any further by installing steel tiebacks every 5 and a half feet along the wall. To conclude our job, we backfilled the wall using Class 2 fill sand, which helps relieve any ground pressure and prevents against water retention. Topsoil and seed were then placed on top of the backfill to make the area look as good as new!
Why Seawall Repairs Shouldn't Be Put On the Back Burner
As you can see, the consequences of improper drainage can be quite severe, and devastating to your shoreline. Therefore, if you notice your existing seawall starting to move, do yourself a favor and contact us at Seaside Seawalls today for a free estimate of your seawall repair job!