One type of seawall that we have not yet shed too much light on is a vinyl piling seawall. Vinyl seawalls, also known as PVC seawalls, are a popular choice among waterfront property owners in Michigan due to their ability to be installed without machinery & special tools. While certainly superior to a wooden seawall, a vinyl seawall can never fully trump a steel seawall and the many characteristics that make it our most sustainable and top recommended type of wall. However, there are lots of great reasons for choosing a vinyl seawall for your waterfront property. Here are the top four:
Reason #1: Vinyl Seawalls are Inexpensive
Compared to their counterparts, vinyl piling material for seawalls are relatively inexpensive.
This is probably the main reason that many customers first ask about vinyl as opposed to other materials, such as steel or certain rock. While indeed the construction of any seawall is quite a major marine project and will therefore require a certain level of financial commitment, vinyl material is generally less expensive than steel or rock, lessening the overall blow to your wallet. Furthermore, vinyl has a pretty long lifespan, being that it is a PVC material, as long as it is installed within a low ice pressure area..
Reason #2: On Shorelines with Low Ice Pressure, Vinyl Piling Walls are Favorable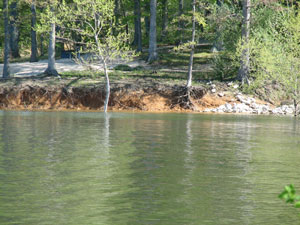 This point is particularly relevant for Michigan residents – many of whom live on or near a body of water (Fun Fact: Did you know that at any point in Michigan you are never more than 6 miles away from water?) If you happen to own property on one of Michigan's many small lakes, ponds, or canals (as opposed to a larger lake), you are a prime candidate for a vinyl piling seawall. Our sheet system material is designed for shorelines with low ice pressure, meaning vinyl walls in these areas are less likely to shift due to major ice movement shifts that shorelines of larger bodies of water often experience.
Reason #3: Vinyl is a Highly Sustainable, Long Lasting Material
Look out marine-boring critters and harmful UV rays!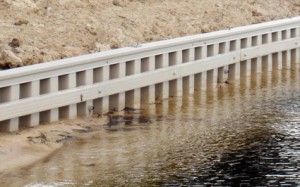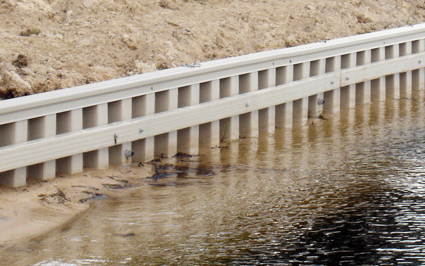 Your efforts to break down a vinyl seawall will not be successful! Well, not right away, that is. Did you know that vinyl piling seawalls are  impervious to marine-boring organisms and critters, as well as resistant to the otherwise damaging UV rays of the sun? Vinyl has a long shelf life, meaning that natural elements like the sun, wind, and water will not break it down as quickly as other materials. With the relentless radiant energy of the sun, combined with the natural, yet harsh elements, walls made from materials other than vinyl will eventually rot, corrode, or become a habitat or "open buffet" for marine-boring critters to feed off of. A vinyl or PVC seawall is designed to withstand the efforts which threaten to deteriorate it  (except for moderate to heavy possible ice pressure areas), making it a popular choice among waterfront property owners in Michigan.
Reason #4: Vinyl is Typically Easier to Install Than Other Materials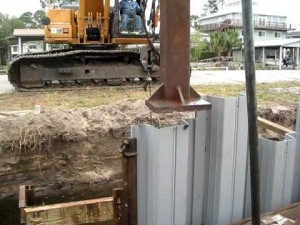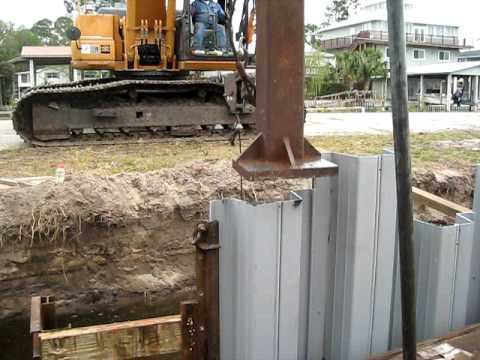 While it may not seem like a selling feature from the homeowner's perspective, vinyl seawalls, on average, are typically easier to install than walls made from other materials. Although our very talented and hardworking crew can generally put up a new seawall (vinyl or steel) in just a few short days, the impact-resistant nature of vinyl pilings tends to make them go into the ground fairly easily (as long as the soil does not consist of clay or large stones), meaning a relatively short "time to completion" for the entire job. "How does this benefit me?" you ask? The sooner we can get your new seawall built, the sooner our large (and loud) equipment is off your property. A win-win situation for all!
When you have decided to have a marine structure like a seawall built on your waterfront property, you will be faced with many material options. So which do you choose? While a steel seawall is undoubtedly a popular choice for a plethora of reasons, a vinyl piling seawall is among the top picks (material-wise) as well, and will provide you with decades of performance from your investment.Contact us at 1-800-843-0915 for a conversation about your marine structure needs and a free estimate for your rock, steel, or vinyl seawall today!