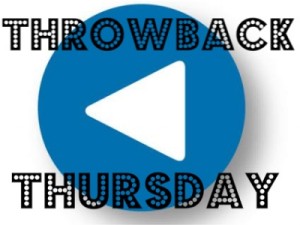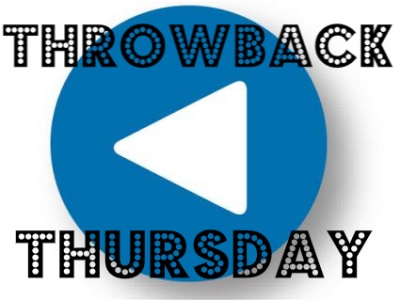 In honor of this week's "Throwback Thursday", let's hit rewind and take a trip down memory lane by revisiting a previous vinyl seawall project from '07.
How It All Began
It was a beautiful sunny Friday in Howell, Michigan. While it seemed as though everyone else was taking it easy that week, being just 3 days after Independence Day, my fellow team members and I had to limit the number of festive family bonfires and patriotic celebrations we'd attend. Gone were the days of lounging by the lake, with an ice cold beverage in one hand and a freshly barbecued burger in the other, basking in the hot summer sun, without a care in the world. Nope, not this week – we had work to do!
A Seawall A Day Keeps Erosion Away!
Lucky for us, this job was a fair size smaller than our typical seawall installation projects, which means (yep, you guessed it!): a shorter time to completion! We headed out that morning, bright and early, to the job site which was on Thompson Lake in Howell, MI. Though it was still quite early in the day, we knew that before long we'd have company, since Thompson Lake is the "go-to" recreational spot for many Howell residents, particularly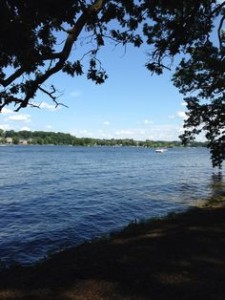 in the summer time. In fact, a lot of the lake's natural shoreline has been modified, and just off of the northeast shore there is a public boat launch and city park. The waterfront property we were going to be working on, however, was along the south shore of the lake. This is where most of the lakefront residents live, many of whom have had a seawall or marine structure of some sort constructed for shoreline protection against erosion. This customer in particular had decided to go with a vinyl piling seawall – a common choice among many Michigan waterfront property owners (to read about the many benefits of choosing a vinyl piling seawall, check out this blog).
Making a List & Checking it Twice: Materials Required for a Vinyl Piling Seawall
We got to work straight away, loading up the skid steer to haul the many necessary items to the shoreline, being sure to double check our materials list:

8' clay colored Shoreguard vinyl sheet pilings
Treated lumber
4 x 4 posts
Zinc plated 5/8" diameter threaded rod deadman
Steel i-beam anchors
Wolmanized 2 x 10 top board
Zinc plated bolts
Threaded rod
Galvanized screws
Class 2 fill sand
Topsoil
Seed
Building the Vinyl Seawall Under the Hot Summer Sun
Our trusty excavator was our machine of choice for this particular job. Complete with it's vibrating compactors flat plate, using the excavator aided us in vibrating the top of the vinyl sheet pilings so that they would be driven both smoothly and precisely into the lake bed. Since the customer had a pre-existing metal seawall in place, we drove the 8' clay colored Shoreguard vinyl pilings directly waterward of the old wall. Then we built the structural frame, which consisted of treated lumber, 4 x 4 posts placed at every 6 feet with 2 x 6 double wale attached to both sides of the vinyl pilings.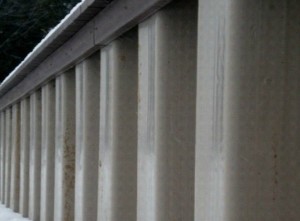 Through each post from the waterside wale, zinc plated 5/8" diameter threaded rod deadman were attached and then anchored 6 feet landward to a depth of 4 feet using steel i-beam anchors. Wolmanized 2 x 10 top board was attached to the double wale for the cap of the vinyl piling seawall. And of course, all materials were attached using only the finest: zinc plated bolts, threaded rod, and galvanized screws.
Since we prefer to keep a low profile and appear as though we were never there in the first place, the cleanup process was very straightforward, as it's a familiar part of our routine. We ensured that the brand new vinyl seawall was properly backfilled with Class 2 fill sand and then topsoiled and seeded for good measure. Voila! Good as new!
The new vinyl piling seawall extended a mere 58 feet in length and was 30 inches high. Compared to some of our other seawall jobs (where seawalls extend to several hundreds of feet in length!), this is on the shorter end of the spectrum.

Nevertheless, the customer was very satisfied with his new vinyl seawall, and I am confident it will continue to not only meet but also exceed his expectations for years to come.
If you're stuck with an old, failing seawall that isn't even worth trying to repair anymore, give us a call at Seaside Seawalls! Together we can work to identify your unique shoreline needs and create something that is both functional and fashionable for your valuable waterfront property. Stay tuned for more "Throwback Thursday" blog posts, as well as new posts on current and ongoing projects! And don't forget to follow us on Twitter for frequent updates on the recent events, news, and projects by Seaside Seawalls!